José Rafael Del Valle Rodríguez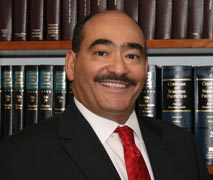 José Rafael Del Valle Rodríguez
Phone: 787-754-8420
Fax: 787-753-1826
E-mail: delvalle@dvrlaw.com
José Rafael del Valle Rodríguez is the founder of the law firm and is active in the Litigation area.
Education
Attorney Del Valle received his Juris Doctor Degree from the University of Puerto Rico Law School in 1980 and a Bachelor Degree in Arts with a major in Philosophy, magna cum laude, in 1976 from the University of Puerto Rico, Rio Piedras Campus. He also studied, for two years (1970-1972), Theology in the Facultad de Teología, Universidad de Granada, España, after completing three years (1968-1970) of studies in Philosophy in Antioquia, Colombia.
Practice Areas and Experience
Attorney Del Valle's practice includes a vast state law litigation and counseling, concentrating his experience in the areas of Creditors' Right and Money Collection, serving both commercial and consumer accounts; Education Law, serving almost all the Puerto Rican universities and some colleges on matters under the Higher Education Act and in the recovery of funds arose under federal student loans and grants; Insurance, attending subrogation claims for insurance and title insurance companies; Trademarks, representing proprietaries of marks and logos; Financial Institutions and Credit Unions or Cooperativas, attending and serving judicial claims and foreclosures.
Admissions
Attorney Del Valle was admitted to practice in the Commonwealth of Puerto Rico in 1980.
Memberships
He is a member of the Puerto Rico Bar Association.
Representative Cases
Asociación de Res. Colinas Metropolitanas, lnc. v. Thillet Rivera, 156 D.P.R. 88 (2002)
Universidad del Sagrado Corazón v. Betancourt Barreiro, 2007 WL 2156533, TCA (2007)
Komodidad Distributors, Inc. v. Rivas, 2007 DTA 1590 (2007)
Universidad del Sagrado Corazón v. Stevenson, 2007 DTA 973 (2007)
Komodidad Distributors, Inc. v. García, 2007 DTA 1212 (2007)
Komodidad Distributors, Inc. v. Berrios, 2005 DTA 1078 (2005)
Universidad del Sagrado Corazón v. Garrido, 2005 DTA 590 (2005)
Universidad de Puerto Rico v. Jiménez, 2004 DTA 2356 (2004)
Cooperativa de Vivienda Rolling Hills v. Vargas, 2004 DTA 3490 (2004)
Komodidad Distributors, Inc. v. Sierra, 2003 DTA 2559 (2003)
Mitsubishi Motor Sales of Caribbean, Inc. v. Servicentro Santa Maria, Inc., 2001 DTA 1084 (2001)